Our students take a lot away from their FFA experience
You can give back by paying it forward today.
Your generous gift will support the efforts of the Texas FFA Foundation, which in turn has a positive impact on over 170,000 students who are enrolled in agricultural science courses in Texas.
Donate Now
Text MYTXFFA to 41010 to instantly donate $10 to your Texas FFA.
Support Our future leaders and build brand loyalties that last a lifetime.
The Texas FFA is a wonderful philanthropic cause with a great marketplace. With 89 years of brand equity, our students, parents, teachers, and alumni are loyal customers who take note of those who are supporting our efforts.
FFA has shown me how much I can offer to the world. Thanks to my Ag Teachers that are always there to give me the support I need to succeed.
Grason Bush - Canyon, TX
Become A Corporate Sponsor
Look for special deals from sponsors inside our app.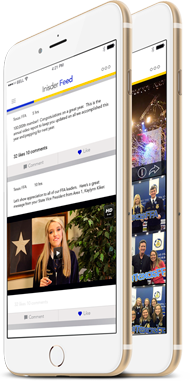 View the app
Texas Team Ag Ed
Each member of Texas Team Ag Ed plays an important role in our agricultural education and FFA programming. For more information on our variety of services, please visit the organizations below.