Living To Serve
The Future is Here
"Living to Serve" signifies the important role serving others plays in Texas FFA leadership development. The Living to Serve platform empowers our students with leadership and citizenship skills – developing them into young leaders today and dynamic influencers tomorrow.
Ford Leadership Scholars Program
The Ford Leadership Scholars program is a result of the Texas FFA Foundation, Ford Division, and Texas Ford Dealers partnership to enhance the leadership opportunities of Texas FFA members.
The purpose of the program is to:
Identify students who exhibit high levels of leadership at the chapter level.
Engage these identified students in a leadership development program created to enhance those qualities of leadership.
Recognize the scholars to build a remarkable legacy for the future of our state and nation.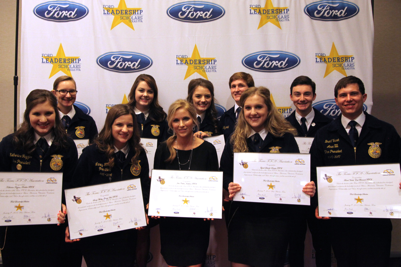 Enhancing Leadership Opportunities
The Foundation AMBASSADORS serve as "face to face" hosts for special guests, sponsors and dignitaries on behalf of the Texas FFA during the largest youth led convention in Texas. Candidates apply through a competitive application process, with emphasis on FFA involvement, individual accomplishments and community service. AMBASSADORS receive extensive training to prepare them for their week of service. Each student AMBASSADOR is assigned to a "VIP" serving as their respective agricultural science / FFA host for the week. In addition, the AMBASSADORS have a unique opportunity of experiencing firsthand the behind the scene complexities of convention week.
Leadership. Education. Advocacy. Development.
The L.E.A.D. Experience connects our teachers to sponsors, key Texas decision / policy makers as well as other stakeholders empowering them with practical, timely and applicable knowledge which can be taken back to students, communities and shared with their peers. The visits, camaraderie, and opportunity to grow enhanced professional networks and leadership skills – pushing participants towards continued career success.
Texas Team Ag Ed
Each member of Texas Team Ag Ed plays an important role in our agricultural education and FFA programming. For more information on our variety of services, please visit the organizations below.